SEO PowerSuite Review
SEO PowerSuite Review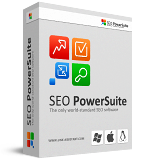 Our online marketing agency is always on the lookout for new tools support our Internet marketing services practice. Tools are evaluated based on:
Efficacy (does the tools provide accurate results, consistently)
Cost (initial and ongoing recurring costs)
Feature fit with our agencies requirements
One of the tools that we've test drove several times over the past few years is a package called SEO PowerSuite. The applications are written in Java and can therefore run on a variety of platforms including Windows, Mac, Linux. One distinguishing characteristic of the SEO PowerSuite is that it runs on local hardware as opposed to running in the cloud like the SEOmoz toolset which is sold on a monthly subscription basis using the software as a service model. The software checks for updates each time it is started and will automatically download updates based on a maintenance model that charged a % of the licensing fee each 6 months to keep the applications current with changes in the search engine algorithms. The SEO PowerSuite is licensed with a one-time license fee based on which edition is purchased. The SEO PowerSuite comes in three editions:
Free with limitations in terms of saving and exporting data
Professional which has limitations in terms of being able to white label reporting
Enterprise which is designed for agencies who want to white label the end customer reporting
The SEO PowerSuite is comprised of four modules which include:
Rank Tracker to check and track ranking of keywords and keyphrases over a large variety of search engines from multiple countries around the world
WebSite Auditor to perform SEO audits on websites with the goal of looking for opportunities to improve on page optimizations
SEO SpyGlass,  – to look at the link graphs  of competing domains and analyze those link graph so long a variety of different factors including page rank.
LinkAssistant – to organize, implement and project manage link outreach efforts
Each of these four modules will be reviewed in more detail below:
Rank Tracker
Rank Tracker – module used to check the ranking of keywords by search engine, by country tracked and reported on over time. Once aspect of Rank Tracker that is handy, especially for SEOs with multi-national, global clients, is the ability to track  rankings of keywords for a large number of search engines (see sample of the search engines supported in the screen capture below)
During the selection process of which search engines to track ranking on, the search engines be grouped by either search engine or country (see drop down box on upper right corner).  
  Once the keywords are entered and the search engines selected, click the next button to check rankings and then run resulting reports.
Here we see the results of rankings for some of the keywords for www.ebizroi.com  for the following keywords: affordable
business websites, affordable Internet marketing services, increase marketing ROI, Internet marketing blog, Internet marketing services across Bing US, Google US and Yahoo! US.
Search Engine Rankings for eBizROI.com
The Rank Tracker application allows you to set up search engine API keys to avoid violating the terms of service for those individual search engines. The application makes it easy with links to request the API keys necessary to configure the rank tracker application.  
Rank Tracker Pricing:
Professional ($99.75, designed for website owners and webmasters) Enterprise ($249.75, designed for professional SEO and Online Marketing Agencies)   Over the last several years, many of the marketing promotions distributed to their e-mail marketing campaigns offer the applications that significant discounts, as high as 40% off list price.   Note: this pricing is a one-time right to use fee. There is also a fee for updates every 6 months. Therefore, when evaluating SEO PowerSuite and any of its four modules relative to alternative SEO software solutions in the market, one has to factor in not only the initial SEO PowerSuite licensing fee, but also a fee to update the software to keep current with search engine updates, which is licensed on a six month subscription fee, with the first six months of updates included with the one-time licensing fee.  Since this model is true for all the SEO PowerSuite modules, it will not be repeated in subsequent sections or pricing information is provided.
WebSite Auditor
WebSite Auditor examines and provides advice on the important structural aspects of a website, its links, structure, page coding and other factors that may influence a pages rank in the search results. Like the other SEO PowerSuite applications, the WebSite Auditor starts out with a website optimization wizard which steps users through the process. Step 1 is to enter a website URL. In this example, www.ebizroi.com is used.
  Pressing next advances the application to Step 2, Searching for Webpages.  Once each webpage is found, ranking factors for each of the pages found on the website are performed. Once finished, a confirmation is provided along with the total URLs found. The free version of WebSite Auditor limits the analysis to 39 pages. In this example, 130 URLs were found and pages will be used in the reports.  
  Clicking finish results in the following next step, which is the option to analyze ranking factors of each of the 39 pages included in the analysis.  
  Clicking yes results in the ability to choose a number of options, including selecting On-Page factors (internal) and/or Off-Page factors (external) in Step 1: Choose Page Ranking Factors.
  Once next is clicked, the ranking factors selected in the previous step are now being analyzed for each of the 39 pages included in the analysis of Step 2: Update Page Ranking Factors.  
  Once the page ranking factors have been updated, the following reports are generated and can be viewed – The Website Report, as shown below, showing PageRank Statistics  
  The Website Structure Audit Report:  
  While statistics for individual webpages can also be viewed:  
The WebSite Auditor module, even the free version used to write this review, provides a wealth of data that can be used to evaluate both on page and off page SEO factors. The application has the ability to generate and xml sitemap and robots.txt files, both of which can provide search engines with a mechanism to discover, crawl and index pages more efficiently and effectively.
WebSite Auditor Pricing
Professional ($99.75, designed for website owners and webmasters) Enterprise ($249.75, designed for professional SEO and Online Marketing Agencies)
SEO SpyGlass
The SEO SpyGlass module allow users to track how competitors are ranking in the major search engine such as Google, Yahoo! and Bing with the goal to understand their overall link profile and what are some of the authoritative websites that currently link to them. Like the other of the SEO PowerSuite applications, SEO SpyGlass operates on a wizard basis walking the user through the steps necessary to gather the information to deliver insights. For this example, I want to run some competitive analysis against a keyword of interest to eBiz ROI, namely "Internet marketing services" – Step 1: Select Competitor to Analyze
  SEO SpyGlass will find the top competitor for the keyphrase entered. Once I click next, the wizard will proceed to Step 2: Choose the Search Engine to Find Competitor.  Much like Rank Tracker, the SEO SpyGlass application will allow me to select search engines grouped by either search engine or country. Due primarily to markets share, in the US at least, the obvious choice is Google.  
  In this case, the user selected Google US among the several choices available in the interface. Once clicking the next button, the wizard proceeds to Step 3: Set up a Google Analytics Account where the user is presented with the option to connect, and if necessary, set up connecting to a Google Analytics account. Connecting SEO SpyGlass with the Google analytics account enables the application to use information from the Google analytics data to track additional inbound links and traffic to augment the back link sources used in the overall analysis.  
  After bypassing this optional step three and clicking the next button, SEO SpyGlass will proceed to Step 4: Collecting Backlink Data on your Competitor  (i.e. the website ranked #1 for the keyphrase entered in step 1).  
  Once step 4 has completed, the following confirmation from SEO SpyGlass is displayed:  
  Once the user clicks the Finish Button, the follow options are presented:  
  Selecting Yes will present Step 1: Choose Backlink Factors updating the search engine data for back links in the project. The following options for updating back link factors from the search engines:  
  Selecting Next Button kicks off a process to where SEO SpyGlass begins checking the various Backlink factors selected in step one of the project. The resulting reports available include the backlinks report (in this case, for the website that currently ranks #1 for the keyphrase "Internet marketing services":  
  Here is the Website Backlinks Analysis Report  
  The SEO SpyGlass reports include a lot of information that can be used to identify high quality, link partners based on your top competitor's link profile and, of the four modules in the SEO PowerSuite, the one that I found most interesting and valuable.
SEO SpyGlass Pricing
Professional ($99.75, designed for website owners and webmasters) Enterprise ($249.75, designed for professional SEO and Online Marketing Agencies)
LinkAssistant
The LinkAssistant module is designed to help SEOs Project Management link outreach efforts while tracking backlinks requested, earned, exchanged etc. The LinkAssistant application wizard begins with asking the user to enter a URL of your website that you want to build links to, Step 1: Specify Your Site
  Entering a website URL and clicking next brings the user to Step 2: Getting Project Info:  
  LinkAssistant is acquiring data from the webpage that will be used in the project to be used in Step 3: Project Info
  Clicking the Next Button brings the user to Step 4: Enter Contact Info  
  Clicking the Finish Button brings the user to an interface where users can generate a link directory structure with Step 1: Select Template Type  
  Then Step 2: Layout Options chose options to include in your generated link directory  
  Step 3: Page Design And Link Location  
  Step 4: Links Page Preview  
  Step 5: Select Storage Settings  
  This will generate the code necessary to create a link exchange page for a website or blog. Though LinkAssistant has many features that make it interesting, including locating potential link partners, those features that focus on link exchange are may be less effective for some markets as Google updates in the US, such as Penguin, are likely to discount links gained through link exchange schemes and possibly view unnatural and manipulative. LinkAssistant offers multiple mechanisms for locating potential link partners.  
  Step 2 – Enter Keyword (based on selecting Find sites by keyword search option)  
  Step 3:  Search Conditions Overview  
  Step 4: Searching For Link Partners  
  Step 5:  Select URLs to Use  
  Step 6:  Common Link Partner Settings  
  Click Finish Button to complete process
  LinkAssistant form email templates are a bit spammy looking in my opinion, but certain industries, geographies and contexts, the email outreach templates and project management capabilities of the tools may prove valuable, especially for ensuring that links exchanged are note removed from the partner site while kept in the users link directory.
LinkAssistant Pricing
Professional ($99.75, designed for website owners and webmasters) Enterprise ($249.75, designed for professional SEO and Online Marketing Agencies)
SEO PowerSuite pricing
The SEO PowerSuite pricing, at the time of this post, was discounted from a list of $399 down to $249 for the professional edition, making it clear that the company prefers to sell all four modules together and make up the margin on the bi-annual maintenance fee. The SEO PowerSuite pricing for the Enterprise edition, at the time of this post, was discounted from $999 down to $599, I suspected for the reasons stated.
Summary of Evaluation
Based on our SEO tool evaluation of the SEO PowerSuite applications, we found that the,
Efficacy, as measured by if the tools provide accurate results, consistently seemed to be legitimate. For example, our rankings from Rank Tracker and recommendations from WebSite Auditor appeared to be spot on. The SEO Spyglass module has some interesting features for supporting competitive intelligence gathering. Link Assistant and the efficacy of link exchange and template based email outreach may be something where efficacy could vary greatly across markets, geographies and search engines.
Cost (initial and ongoing recurring costs) are on par and similar to many of the software as a service model such as SEOmoz tools. The nuances come about based on limitations of each licenses based on how the tools are being used, limits on number of keywords tracked, domains managed, queries run.  One cost difference is that hardware costs must be accounted for with SEO PowerSuite modules since the software runs locally, using bandwidth and computing resources, but for certain scale, SEO PowerSuite could be more cost effective.  Top SEOs may use both along with other SEO tools. Global SEOs should definitely give SEO PowerSuite a look. Semi-annual maintenance for SEO PowerSuite is estimated at 20% of initial purchase price and is payable every 6 months to keep software current with rapidly evolving search engine algorithms and APIs (Application Programming Interfaces). This cost should be factored into total cost of ownership.
Feature fit with our agencies requirement – SEO PowerSuite appears to be a good fit for our agency and will augment other tools we license such as SEOmoz Pro subscription.
Since there are free versions of all 4 applications, we recommend that those that found this post informative and interesting, in addition to those that are performing SEO for global multi-national companies will find value in test driving the free versions to see if one or more modules provides value to warrant purchasing one of the editions to support your SEO and Internet marketing efforts. The modules of SEO PowerSuite are wizard-driven for beginners while offering power users the ability to set a number of advanced options. The modules all include support for many different search engines from around the globe. Since the modules are written in Java, multiplatform support is built in. Each time the modules are started, updates are checked for and downloaded automatically upon startup, along with a summary of changes included in each update. Agencies who adopt these modules will likely require the Enterprise edition which is necessary to white label, export and publish client reports.